This week we are showcasing our no.1 product at HIMSS Global Health Conference & Exhibition 2023 in Chicago. The conference brought together healthcare professionals, technology vendors, and other stakeholders to discuss the latest trends and innovations in healthcare.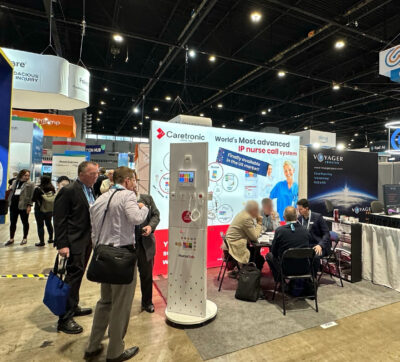 At the conference, we are showcasing our top innovation, the world's most advanced IP nurse call system. The system is designed to enhance patient care and streamline communication between patients and healthcare providers.
The IP nurse call system incorporates cutting-edge features, such as real-time patient tracking, customizable alarms, and advanced reporting capabilities. It also integrates seamlessly with electronic health records (EHR) systems, ensuring that patient data is accurate and up-to-date.
The system is highly scalable, making it suitable for healthcare facilities of all sizes. Additionally, it is designed to be user-friendly, with a simple and intuitive interface that minimizes training time and maximizes efficiency.
"The IP nurse call system is a game-changer for the healthcare industry. "Our goal is to provide healthcare facilities with technology that can improve patient outcomes while also reducing costs.
The IP nurse call system is a perfect example of how we are achieving that goal."
Andraz Krajnc, CEO Caretronic Slovenia
The Caretronic team is excited to demonstrate our IP nurse call system at the HIMSS conference.
If you are there, come and say hello!